About Osotto

Guangzhou Osotto Health & Technology Co., Ltd. is a company that is engaged in the business of operating and managing recreation hotel chains. It provides full professional services, including location selection, investment and financing, planning and designing, training and opening, acquisition and reorganization, and management.
The chain of leisure theme hotels self operated investment construction by Guangzhou Osotto Health Technology Co., Ltd. : Guangzhou Baiyun District Nanmei Recreation Club Hotel (Limited Partnership). Guangdong Nanmei Hotel Co., Ltd., Foshan Osotto Recreation Hotel Co., Ltd., and Guangzhou Cheermore Hotel Management Co., Ltd. (Hereinafter, all the physical hotels of the above three companies are collectively referred to as "Cooperative Hotels", and the four hotels are collectively referred to as the "Hotels").In the next five years, it will gradually develop dozens of large-scale recreation hotel chains in a planned way and strive to build its brand and become the first brand and benchmarking enterprise in the recreation industry.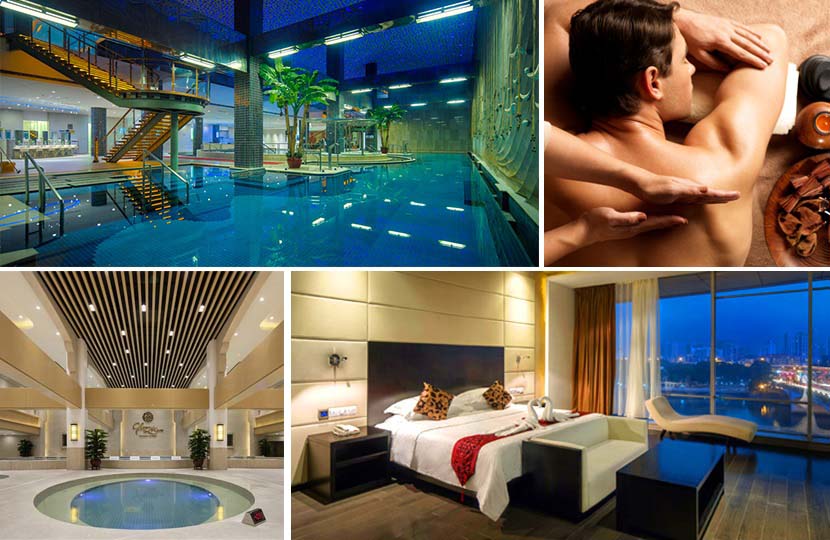 The series of hotel chains under the management of Guangzhou Osotto Health & Technology Co., Ltd. have all been decorated according to the standards of a four-star hotel. The hotels provide one-stop services to satisfy different levels of recreation and business requirements of individuals and companies. These services include physiotherapy (Chinese medicine therapy, Foot massage, Partial massage, Scraping therapy, Fire cupping, Ear cleaning, Pedicure, Eye yoga etc.), health care (Aromatic physical therapy, Osotto essential oil massage, Chinese style massage, Thai style massage)、 Hydrotherapy (all kinds of Shower, Dry sauna, Wet sauna etc.) and SPA for twenty-four hours.

catering (buffet, tea bar, coffee bar, and free beverages);entertainment and recreation (web surfing, beauty salon, cards and chess, theater, billiards, and gym);sleeping (lounge, non-smoking lounge, sleeping area for male and female guests, and space capsules);guest rooms (standard rooms, deluxe rooms, business rooms, executive rooms, suites, VIP rooms, etc.);business meetings (business center, conference room, etc.) and so on.